In an ever-increasingly competitive market, industrial real estate listings can struggle to stand out. However, a hot new trend - 3D property highlight videos - can help them achieve just that. With this in mind, Friedman Studios produced a customized video for an industrial real estate listing at Vineyard Avenue in California's prime Inland Empire market.
3D Property Video Quality
In particular, a hot product on the real estate market, 3D videos may pay for themselves given the competitive edge they give their listings over the competition. However, not many industrial real estate media companies offer the service within a viable price range. Moreover, many offer simplistic renderings with a high price tag in tow. Unlike most companies, we offer best-in-class 3D property highlight videos to showcase your industrial real estate property within your budget. Further, our skilled production team has extensive film production experience and curates a customized video with the high-end features of the best 3D property videos.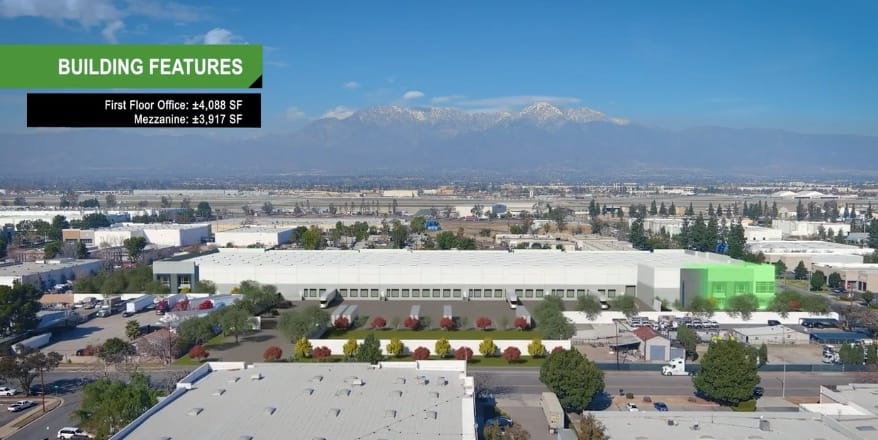 Property Video Strategy
A skilled production team will create a customized 3D video unique to a given property. For this listing at Vineyard Avenue, we designed a unique 3D highlight video. Of note, the 3D video capitalized on many of the listing's most prominent features.
3D Property Video included:
3D rendering of the building, based on architectural designs
Animated 3D renderings of listing's truck court, grade level doors, and dock high doors
Drone animation of the building's exterior and corporate neighbors
Animated maps of the listing's proximity to freeways, intermodal yards, and airports
Animated 3D views of the large warehouse

3D Animation Advantage
3D animated property tours offer a distinct advantage over traditional media for industrial real estate listings. First, the 3D animation maintains the broker's brand integrity. Second, the 3D tour sets the listing apart from others in a saturated market, since many cannot afford a 3D property highlight tour. Further, 3D highlight videos can showcase listings under construction. Since the 3D animation includes renderings based on the architectural drawings, the resulting video showcases the listing as it will appear upon completion, something inherently unavailable with other media methods alone. We want every broker to be able to showcase their listing via an animated tour. That is why we offer affordable, best-in-class 3D property videos for your budget.