For listings under construction, showcasing the property's current status in conjunction with visuals of the site after construction wraps provides a strategic marketing advantage. With this in mind, a broker contracted Friedman Studios to produce a 3D property highlights video. In addition, our media team captured drone images of the industrial real estate listing undergoing construction in Fontana, CA.

Property Highlights Challenges
For properties undergoing construction, it can be difficult to showcase the listing as it will appear after construction. In particular, this is especially true for new builds very early on in construction. As such, 3D property highlight videos can offer potential occupiers a way to view the building as it will appear once complete. Our team of media specialists curates custom virtual tour videos that accurately represent the listing to potential occupiers. Specifically, our team of artists and designers combines 3D modeling with ultra high-resolution drone video to produce such 3D videos. Drawing directly from the architect's CAD drawings, we are able to show up and coming properties as early as ground breaking, which can support pre-lease opportunities.
3D Property Highlight Video Strategy
For the listing on Almond Avenue, our team of specialists created a custom 3D property highlights video. Of note, the video complements the drone photography we took of the listing during construction. In particular, the video our media team produced included:
3D renderings of the building from architect's CAD drawings
animated maps with distances to local ports and airports
drone footage of the site currently
the listing's corporate neighbors
freeway access
distance to local intermodal yards
the Dock high doors
Though construction had not yet wrapped, our media team showcased features that will be included in the final build. For example, via 3D renderings, our media specialists showcased the location of the listing's dock doors and ramp doors. Further, the renderings in the 3D property highlights video also depicted the ample office space and spacious truck court.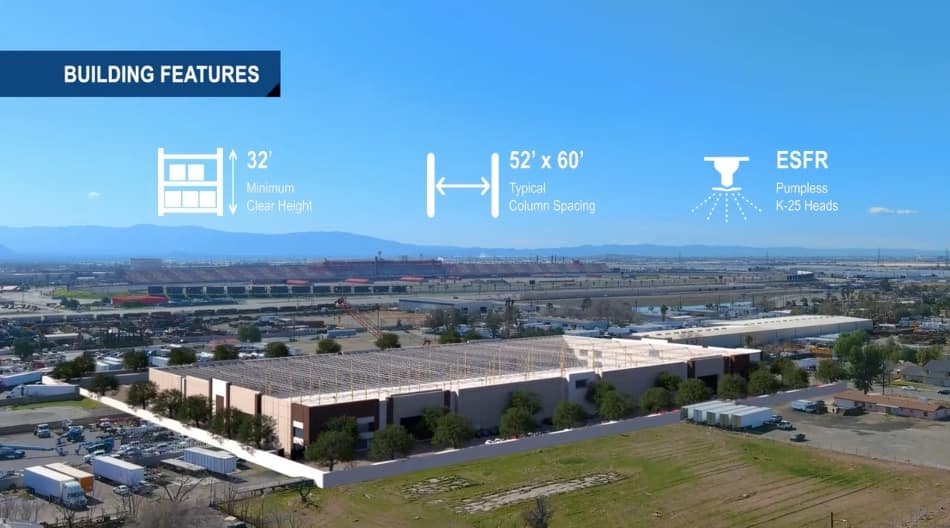 3D Highlight Video Advantages
A 3D property highlights video offers the benefit of allowing tenants to view the listing before construction wraps. In addition, via this media, they can imagine the listing as it will appear once completed. While it is a highly complex process to create such 3D highlight videos, our team spent the last six months streamlining the process so as to make the product feasible for most marketing budgets. Regardless of the stage of construction – from just breaking ground to almost completed – our signature 3D property highlights videos can help a listing make its best first impression.