Many industrial real estate listings go on the market while they are under construction. To help occupiers visualize the final product of listings undergoing construction, our design team at Friedman Studios offers animated 3D rendering services. By including 3D rendering in our virtual tour videos, tenants can imagine the building once completed. In addition, doing so builds additional interest in the listing even before construction is completed.
Presentation Difficulties Without Animated Rendering
Without animated 3D rendering, occupiers may see only the construction site. Often this can potentially deter interested parties until construction ends. For example, if a warehouse has yet to receive flooring or landscaping has not yet occurred, tenants may have difficulty visualizing the final property. In particular, if occupiers view several industrial real estate listings, the one under construction may not hold viewer attention, even if it offers the best features.
Friedman Studio's 3D Edge
With this in mind, our design team uses animated 3D rendering to help occupiers visualize the final product. For example, for an industrial real estate listing presented by Voit in Chino, CA, our team of designers added 3D renderings, based off of the building's architectural plans, to our virtual tour video. The 3D details showcased the future office space, still under construction during the project. Our team suggested the animation to the broker because this particular listing had a large office footprint, uncommon for the property size. As well, the animated rendering depicted the high end finished product in a way traditional video tour footage could not.
In addition to the virtual tour video and 3D animation, our team of photographers captured both ground and aerial photography of the listing. In particular, we delivered both print-ready and web-ready images of the industrial real estate listing.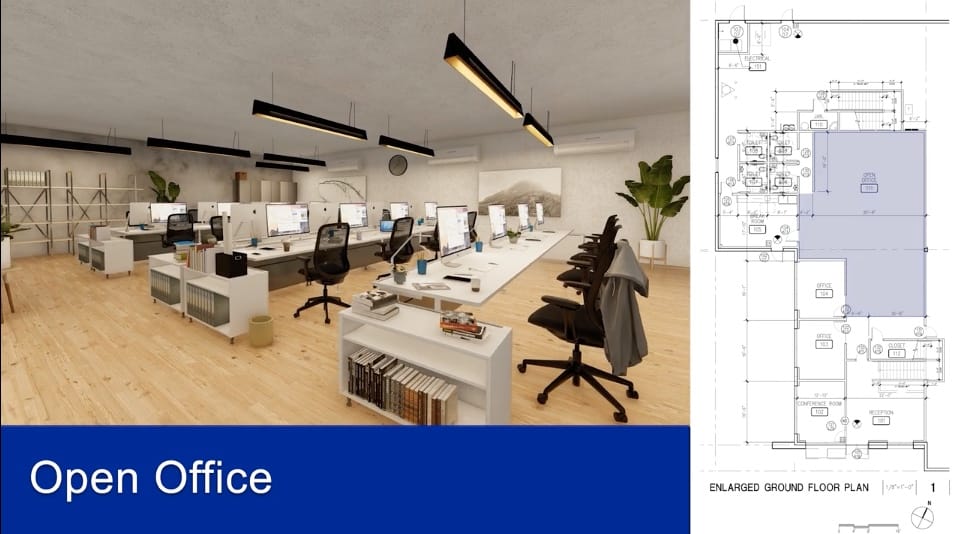 Animated Rendering Advantage
The current market includes virtual tours as the norm. Animated 3D rendering amplifies the advantages of virtual tours even more. For example, someone touring a listing under construction may not see past the hard hats, dirt, and missing finishes. However, animated renderings offers a way to circumvent that pitfall, depicting the listing in its final glory, as it will look upon completion. As such, animated renderings offer a clear benefit to brokers and occupiers alike, ultimately generating interest in listings, even during construction.