Marketing suites allow brokers to present their properties virtually. With this in mind, Voit and First Industrial Realty contracted Friedman Studios to create an Ontario virtual tour for their property in the Inland Empire. In particular, we created a marketing suite that included both aerial and ground photographs, a video tour, and a 360 walk through (3D) tour.

Ontario Tour Challenges
We faced a major challenge with this project. Due to a relatively long span of time between video footage and ground photography, we worked hard to ensure consistency across all marketing media. In particular, the 360 walk through (3D) tour required us to pay special attention to ensure a consistent look to the media. The resulting Ontario virtual tour package had a uniform finish between the virtual video tour, 360 walk through (3D) tour, and aerial and ground photographs.
Virtual Tour Strategy
Throughout all media for the Ontario virtual tour, we maintained the highest-quality standards to ensure brand integrity. In particular, brand integrity stood paramount for this project. We certainly achieved that in fulfilling their marketing media needs.
The virtual video tour opens with our signature animated maps, highlighting the property's proximity to local points of interest. In the case of this property that included local airports, ports, freeways, corporate neighbors, and intermodal yards. Next, the video highlights the subject property's office and warehouse spaces.
Complementing the virtual video tour, the 360 walk through (3D) tour allows occupiers to walk the subject property room by room. We included our signature measurement mode, floor plan layout, and dollhouse view.
Further, the ground and aerial photography completes the Ontario virtual tour. We included both print-ready and web-ready versions for the brokers' convenience.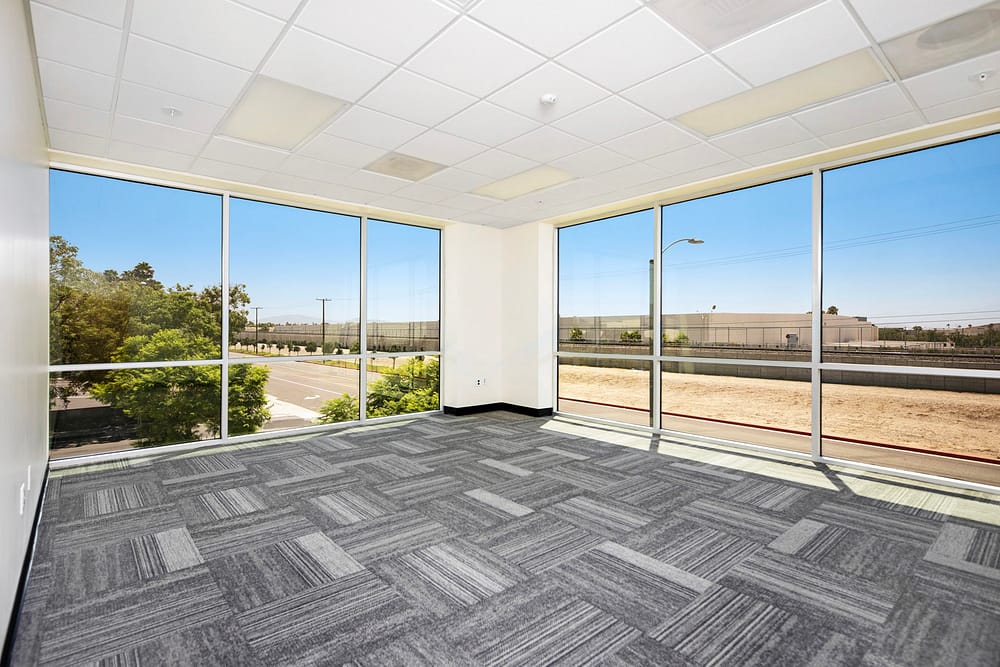 Advantages of Virtual Media
Virtual tours offer a unique advantage. Occupiers can view sites remotely, even measuring the subject property's rooms via the 360 walk through (3D) tour. In sum, the Ontario virtual tour affords a comprehensive, time-efficient, and socially distanced approved method to tour the subject property. Based on client and broker interest alike, virtual tours will likely stay even once pandemic restrictions lift.