As virtual property showings cement their spot as mainstream, customized property websites are gaining popularity. Websites compliment a brochure and video tour of industrial real estate. With this in mind, Lee & Associates contracted
Friedman Studios
to create a Rancho Cucamonga virtual package for their industrial subject property. In particular, Friedman Studios produced a
property website
.


Rancho Cucamonga Challenges
The Rancho Cucamonga property on 6th Street posed a challenge due to its proximity to the Ontario International Airport. As such, Friedman Studios needed to obtain FAA Authorization to fly a drone on the site. Further, working with air traffic safety to gain FAA Authorization is a complex and essential process to safely document the industrial property. However, the steps to gain clearance proved worthwhile as it allowed Friedman Studios to deliver a complete virtual package of the subject property that included drone photography and video.
Rancho Cucamonga Package Strategy
Friedman Studios created a comprehensive Rancho Cucamonga virtual package, all centered on a fully customized industrial property website. To start, the website included professional photography of the site as well as key property features. For the ease of interested parties, Friedman Studios also added a direct link to the real estate brochure. In addition, on the website Friedman Studios incorporated a bird's-eye view map of the subject property to showcase its layout. The bottom of the web page highlights the virtual tour created by Friedman Studios.
In the virtual tour, Friedman Studios employed animated maps to showcase the property's proximity to logistical airports and ports. As well, the property video then highlights the local corporate neighbors, providing context for the site. Next, distances to intermodal yards, key features, are shown via animated maps. Further, Friedman Studios utilized drone photography and video to capture property highlights, from the concrete truck court to the warehouse interior.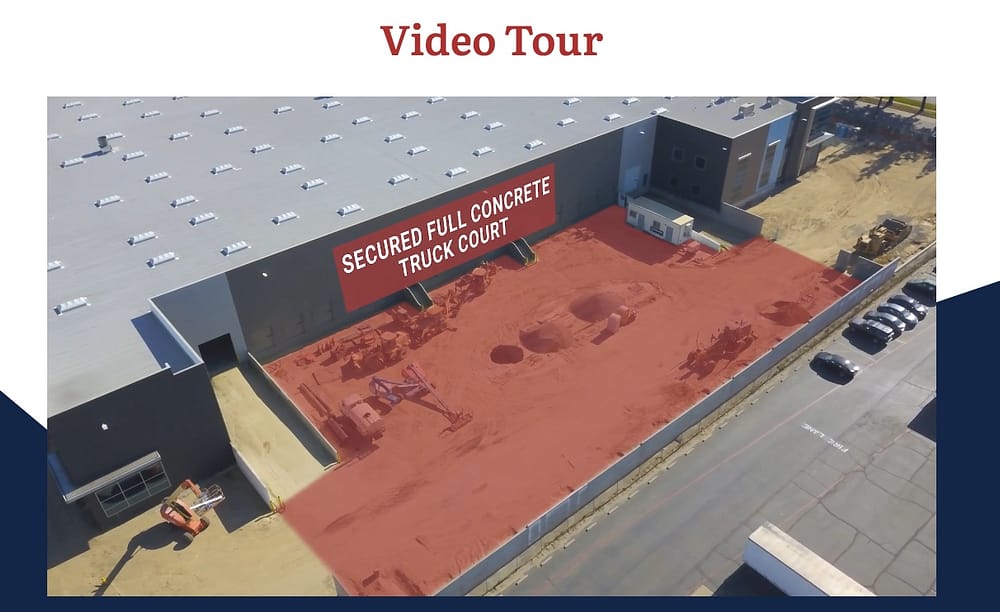 Rancho Cucamonga Virtual Benefits
In conclusion, the Rancho Cucamonga virtual package offered several key benefits beyond what a traditional site tour alone could. For example, interested occupiers can see the context of the site via drone imaging and animated maps. A site visit alone could not demonstrate the proximity to local ports, airports, nor intermodal yards. In addition, the virtual package opens the site up to occupiers outside of Southern California in addition to locals.