Shift to Virtual Tours
Friedman Studios was contracted to create a virtual tour for an inland empire logistics center property presented by Voit | Compass Danbe. The Rialto logistics center virtual tour allowed both local and out of state buyers to view the property. In the wake of the COVID pandemic, real estate has adjusted to a new normal: virtual tours. Social distancing makes in-person property showings logistically difficult. As such, industrial property tours have gone virtual for both the sales and lease markets. Further, virtual tours tap into an additional pool of potential clients: out of state buyers.
Rialto Virtual Tour Challenges
The pandemic presented challenges to capturing footage of the inland empire site in person. However, Friedman Studios overcame the barriers via drone footage as well as utilizing dynamic maps. Even more so than before COVID, a quick turn around time was essential. As such, Friedman Studios efficiently captured footage of key features of the Rialto logistics center. As before the pandemic, Friedman Studios offered a prompt timeline for producing the virtual tour.

Logistic Center Virtual Tour Strategy
In the virtual video tour, Friedman Studios capitalized on the location of the logistic center. Via Google Maps, the virtual video tour highlights the property's proximity to the Ports of Los Angeles and Long Beach, local freeways, and nearby logistical airports. In addition, the Rialto logistics center virtual tour showcases the distance to two nearby intermodal yards. Further, the video includes the site's corporate neighbors: from Amazon to Target to FedEx to Kellogg. To conclude, the virtual tour moves to the property's key features: the 130′ truck court, warehouse size, and ±7,000 SF of office space.
In addition to the video, Friedman Studios created a 360 walkthrough of the property to complete the Rialto logistics center virtual tour. In particular, the 360 walkthrough allows occupiers to remotely walk the site room by room. Specifically, the 360 walkthrough covers all key features of the subject property, including the warehouse. This feature enables tenants to see the subject property without any need to travel to the site in-person.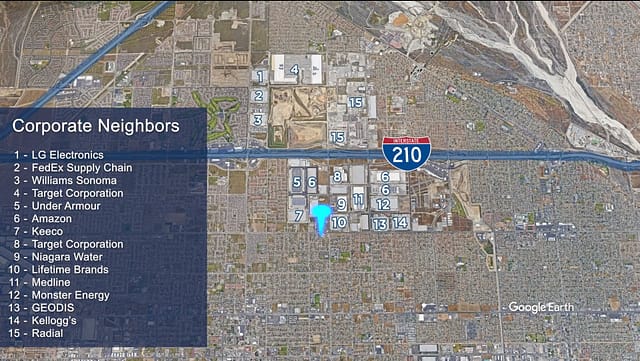 Benefits of Virtual Tours
Friedman Studios' strategic use of dynamic map animations allows potential buyers to understand the context of the property and the value of its location in a way that an on-site tour alone cannot. In addition, Friedman Studios' employment of 4k aerial footage to capture the logistics center gives clients a view to which they would not typically have access. Friedman Studios adapted to pandemic requirements. The final virtual tour – both video and 360 walkthrough – shows buyers, both local and out of state, what they want to see in a property.