Save time and money when planning your training video!
Video training is one of the most cost effective and measurable means of training available today. Viewers more easily understand and recall new material when presented as a video.
There are many variables and different types of training videos to consider when deciding how best to educate your end user. But don't pay a premium for what you don't know.
Relying on a video production company to make your basic production planning decisions can needlessly cost you thousands of dollars.
This step-by-step guide will help you navigate through the process of how to plan your training video production in less than an hour. It will save you time, money and headaches!
---
Step One – Outline the Scope of your Training Video
Successful training video productions all start with a clear plan for what you want to record. Every successful training video production requires a scope or a basic description of the job. Wikipedia defines scope as, "The work that needs to be accomplished to deliver a product, service, or result with the specified features and functions." So let's get into what's important to define for your production.
Number of required training video hours or amount of material to be covered
Anticipated budget range or Request for Proposal
Required start dates and delivery dates
# of locations (e.g. office room #1, office room #2, Energy Center, Parking Structure)
Final training video resolution (4K or HD)
Before moving on to step 2, hiring a training video production company, I recommend being able to fill out at least four of these five bullet points. If you move on to requesting proposals from videographers or video producers before you have this section figured out, you might get a bid range that is too broad. You don't want to have too many outliers.
• # of Required training video hours or Material to be covered
"Required training hours" or "Material to be covered" are the two most common ways to define how much time, and therefore budget, your training video production requires.
If you are scoping training videos for specs, like HVAC, Switchgear, Fire Alarm systems, etc., it's best to consult directly with each subcontractor in charge of a spec for how much time they need to train a qualified professional.
Send each subcontractor the owner-required training to be covered for their system and have them estimate how long each section will take to train a staff member. Make sure to have them include time for questions during the training and at the end of training.
By the way, most of these questions can be great material for the training video unless you want it to be more formal. Your subcontractors have likely provided this training before and will give you the best time estimate. (And you likely had it in their contract to fulfill the initial owner-required spec training anyway.)
It is better to get this information yourself instead of having a videographer do it because then you can get various proposals using the same estimated training times. Filming training time will be your second biggest expense. You'll learn about the biggest expense of your training video production later in this article.
Production companies will have price breaks and price floors all at different levels, so getting them a ballpark range will allow them to give you their most competitive rate for your production scope.
If you are scoping training videos for material to be covered, like Disclaimer Section, Patient Chart Analysis, Going over Results with Patients, you can use a simple formula for estimating video training time by analyzing your script. In general, each page of your script will take two minutes of produced video time to cover. To get those two minute of produced video, you will likely need four to six minutes of production time.
Do you want to scope a more sophisticated training video with multiple camera angles and cutaway shots (like dedicated close-ups of your product or computer screen, animated graphics)? Read The 5 Minute Tutorial on Sophisticated Training Video Production Planning.
• Anticipated Budget Range or Request for Proposal
Unfortunately, there is not a one-size-fits-all solution to how you arrive at your training video budget. However, the two most common practices are allocating a budget range or finding your budget range through RFP, or request for proposal.
A project manager who allocates a video production budget range most likely came up with their budget based on the last video production they successfully completed. They were happy with the service and the results and the executives approved this budget last time. This method can sometimes work if the productions are similar in scope.
However, the best method for understanding your video budget needs is to send at least five RFP's to reputable production companies first. You can use our Auto RFP submission form for your training video production and we'll send you back a free PDF version of your filled-out RFP within one business day so you can submit it to other video production companies (without our name on it, of course!). You'll also get back an estimate for your production within one business day! Click here or call now 323.942.9723 to get the process started.
---
With that said, let's get into the details of each bullet point of your production scope to help you flesh out your training video production plan.
• Production Start Dates & Delivery Dates
The best way to figure out when you need to start production is actually by working backwards and starting from when you need your videos available for consumption.
When is the next training class to be held? Or, when does the new building get handed over to the owner? Or, when is the project deadline?
If you don't have a deadline, you might get motivated to create one by figuring out how much it costs you to conduct live training sessions and how much you could be saving by showing a training video instead.
If you get paid to do live training, you may have to offer your online training video at a lower rate than your live training sessions. But consider why you want to have your training session online in the first place. Often times it's because you're too busy to handle all the live training sessions. Or because you want to transition a piece of your training business to an online format where you can offer a library of video training content.
Pick production deadlines or spend more $$
Let's say you pay $1 for every live training session (don't you wish!) and your expected training video budget is $7. Obviously in seven sessions of live training you could have paid for your entire training video production!
If you are training new hires, you'll get a lot more bang for your buck by having the same training video available five years from now as opposed to finding the right trainer who knows the material and can deliver consistent results over the long term, for a competitive rate.
• Location, location, location!
What is a location, anyway? Just like in Real Estate, location is everything! You only need to know in general terms what type of location and how many locations your video training will require.
Once you can fill that bullet point as inside, outside (day/night), inside&outside and the number of each, you can move on. Any competent video production company can build their first estimate based on that criteria.
Sure, they will want to know more information, like how many people will be on camera. But you can actually withhold that information and use it during your vetting process as a way to decide if a production company meets highest competency standards to handle your training video.
I've created a checklist of questions your videographer should be asking you before submitting their final proposal. This checklist is a great supplement to viewing someone's portfolio – which isn't the best indicator of their ability to work with you!
Why are we talking about hiring a production company if all we're doing is planning the training video?
Because the two are intertwined. The more you know about the entire video training production, from concept to delivery, the easier it's going to be to get it done quickly and cost-effectively.
• 4K Training Videos vs. HD Training Videos
4K video is the new buzz for training video, but how important is it for your training videos? Unless you plan to show your training videos on 4K monitors (not common), you won't see the difference. Plus, it can be an extra expense that you don't need simply because "4K" is a buzzword. And it's easy for a production company to charge a premium for buzzwords!
You don't have to decide your resolution yet, but knowing if you want 4K training videos or HD training videos can be helpful in case a production company asks you for the final video resolution you want.
Step Two – Hiring a Training Video Production Company
Now that you've ironed out at least four of the five bullet points from section one, it's time to hire a training video production company! In this section, we'll go over the most important qualities a video production company should have before you hand over your training project to them.
You'd be mistaken to think this step isn't part of your training video planning. A training video production company manages a lot of moving parts on your behalf. You want to have get a clear idea of your anticipated budget and timeline. Do this by getting accurate estimates from at least five qualified production companies.
This list is not a "make sure they have at least four out of five" kind of list. Some of you know what you don't know, and others don't know what they don't know. Either way, you need to learn about what you don't know.
Even if you've hired production companies in the past, it would be a good idea to review this list as a quick refresher because it could save you thousands of dollars in time and money, and it may even change your future production from a nightmare to a success!
Equipment for Training Video production – not all video equipment is created equal
Having the right video equipment is paramount to a successful training video production. Your videographer should own an HD camera that can handle long-format recording. This means their camera can record an hour or longer in one take. Many DSLR cameras cannot record in long-format.
The videographer should also own wireless lav mics. These mics are also called lapel mics because of where they are clipped onto the subject. These wireless mics allow the trainer can move independently from the camera operator.
If you want to know why HD is a must for today's audiences, here's a quick article in Understanding the Difference Between SD & HD. To summarize, SD video will give you a square frame and blurry video on any TV made after 1998.
Backups – Crucial, not optional
If you want to protect yourself against a halted video production, make sure the production company has a backup of every piece of equipment they plan to use on set. This is usually not an issue for professionals with training video experience of at least five years.
Speaking of backups, you need to find out if the production company has a standard footage backup procedure to ensure you don't lose footage. Lost footage can occur due to accidental deletion (more common than you think), a power surge, corrupt hard drives, theft, etc. It happens more often than you think.
Imagine the headache and cost involved in re-shooting! Even if the videographer offers to re-shoot for free, your time and everybody else's time is NOT free. Just say no to any company that cannot easily explain their standard footage backup procedure.
Finding out how long a video production company has been producing training videos is an easy way to rule out some bids.

PS: Training video production is a niche and is not the same as creative or corporate video production. If your production company of interest has been making short films, music videos, and product videos for ten years it doesn't mean they can effectively produce your training videos.
Hiring Local Vs. Non-Local Videographers
Is your training video production short-term or long-term? If it's long term, you may want to limit your videographer search to within thirty or fifty miles of the main shoot locations. If the shoot is short term, having a non-local videographer can work. But take into consideration how well they need to know the area. Also consider their bid will likely include travel expenses — listed or not!
Production Insurance
Unless you plan to foot the bill if the production company's camera breaks, or if somebody's foot breaks, make sure the production company provides proof of general liability insurance with at least a $1 million umbrella. Their insurance should be current and they should be able to list any locations under their "additional insured" section.
References & Portfolio
Along with seeing their portfolio, feel free to request references from the videographer. They may have completed some work, but references can tell you what it was like working with them. They can also fill you in on the company's ability to deliver on time.
Workload accommodation
You can find out if a production company can handle your workload a few ways. Ask how many projects they complete per month. Or find out how quickly they can deliver an edit after completing a shoot. If they want more than four weeks for most projects, they're either too busy or they're understaffed.
User Friendly? Reliable? Flexible? Follow-through?
You can't simply ask these questions and get the answer you need. But do keep them in mind as you work through the proposal process. Can they meet your proposal submittal deadline? Do they provide all requested materials and follow up with you? Can they work with you on pricing or logistics to fit your particular project?
Flat Rate vs. Hourly
Your videographer may not explain this in their proposal for your training videos. This is mostly important in case you end up shooting extra days or making many editing revisions that take extra time. How does the production company bill? Flat rates can look like "half-day minimum" and hourly may not be the same as how they bid the project. Hourly may be a special rate for overages. This can kill your budget if you're not careful!
Step 3 – Shoot your training video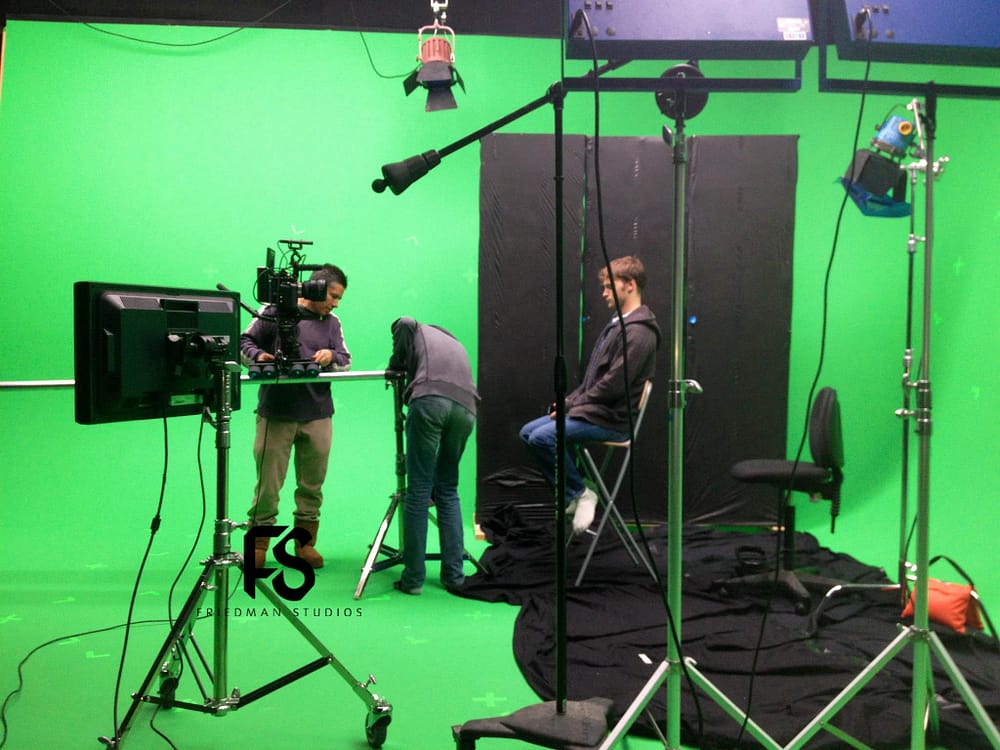 The secret to scheduling your shoots
If you have a 10-page training script, that would result in an approximately 20-minute long training video, which would take about forty to sixty minutes to shoot. This accounts for retakes, breaks, and actual shooting. This does not account for location changes, lighting setups, and general setup/take down.
If you're like me, the wheels are turning… if you can limit the number of setups and takedowns in a shoot day, you can significantly reduce your training video cost. This is yet another reason for getting training time estimates from your trainers. Eventually you (or your selected video production company) will be able to estimate number of shoot days required to complete your training videos.
I call this stacking. This strategy is exactly how Hollywood does it on big-budget movie productions. Often times the production shoots out of script order to maximize savings. It works exactly the same on training video productions. How you shoot will be a direct translation of how your chosen production company scheduled the work, which influenced their bid.
Hopefully you read this before you picked the company and you can ask them for a proposed shoot schedule. Compare your top five production company's proposed shoot schedules! This will tell you a lot about their preparedness as well as their ability to maintain your budget requirements.
Spread-out shooting or all at once?
Sometimes you don't have the luxury of taking off several days or weeks to shoot all your training video material. You'll stay cost-effective as long as you can plan full days of shooting.
Most production companies bill at half-day or full-day rates. A half-day rate is usually higher cost per hour than a full-day rate. Some videographers give discounts for full weeks or multiple-week shoots.
If you spread out your training video shoots you run the risk of scheduling conflicts. Your production company may book up during the times you need them and you may find yourself looking for a backup videographer.
Step Four – Editing
Congratulations for making it this far! Probably 90% of readers skip out before this point and miss some of the more important points of training video production planning. Earlier in the article I promised to talk about the most expensive part of the production process. Here it is, the edit!
Why is shooting not the most expensive part of your training video? Because you can shoot all day and still end up with only a day's worth of footage. In the edit room, you can edit all day and only have finished editing one-third of the day's shoot.
The Shoot to Edit Ratio
Other video productions have different shoot-to-edit ratios. Training video productions usually have a 1:2 or 1:3 ratio. If you need minimal bullet points, fly-in text, and cuts, you can expect two hours of editing for every one hour of shooting.
If you need picture-in-picture PowerPoint slides to match the speaker's presentation or any text and graphics to closely follow the speaker, expect three hours of editing for every hour of shooting.
If a videographer quotes you less time for training video editing, pad their proposal.
Revisions
Once your production company sends you the first draft of your training video, you'll need to provide detailed revision notes. It's a good idea to find out how many revisions they include in their proposal as part of the scope of work. Make sure to get quoted costs for additional work.
You'll get the draft through an online link and you can stream the video from a private web page. Often times you can download the video straight from the page, once you approve.
To save the most time and money, include the time of the note along with the note. Make sure to get consensus with all members of your team before submitting the notes. Some editors charge minimums!
Step Five – Deliverables
Though it's technically not a word, "deliverables" is the Hollywood term for assets required to be delivered to complete the project.
Recommended Tech Specs
You'll want different technical specifications for various platforms. Here is a basic guideline for minimum specs:
Embedded video

(Youtube or other 3rd party player) – 1080p, 50mb/s video, 256kb/s audio

HTML5

on your website – 1080p @ 12mb/s or 360p at 3mb/s, 256kb/s audio

DVD

– make sure the disc is almost filled to capacity to get the best quality

BluRay

– 1080p, 12mb/s, 256kb/s audio
Back Ups
Make sure your production company keeps a backup of all assets relevant to your project for five years. This includes logos, fonts, music, photos, raw video, raw audio, project files. They should have the same file structure they hand you on your copy of the assets, unless you don't request them.
If you don't get the assets you are committing yourself to that production company to make any changes or updates without recreating the project from scratch.
Conclusion
Congratulations on making your training video production planning cost-effective and smart! This article puts you ahead of 90% of the curve. The essence of this article revolves around planning your production before you spend a dollar. By doing so, you'll save on cost and also you'll save massive amounts of time in prep, shoot, and completion of your training video production.